Screen Time and Your Eyes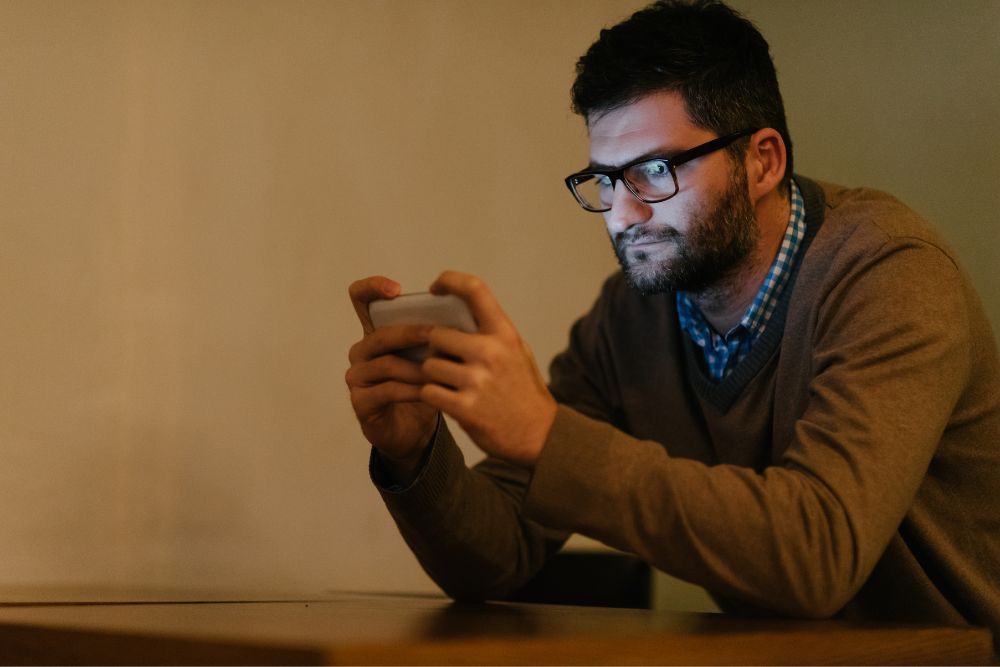 From computers to smartphones, modern everyday life is undeniably dominated by the ubiquitous presence of digital screens. Whether for work or leisure, it's estimated that the average person in the US spends over seven hours a day looking at screens. This relatively recent trend has many wondering whether or not our constant staring at screens is harming our vision.
Blue Light and Vision
Computer and phone screens produce a short, high-energy blue light. While it's generally understood that exposure to blue light contributes to eye strain in the short term, whether or not it causes serious vision impairment in the long term is up for debate.
How Blue Light Affects the Cornea and the Lens
According to a 2018 study published in the International Journal of Ophthalmology, high energy short wave blue light penetrates through the cornea and has been shown to increase the production of reactive oxygen species (ROS), which is a type of hyper-reactive free radical molecule that can lead to cellular damage and cell death. The study also describes how blue light affects the surface of the eye as well as the lens. One of the lens's purposes is to protect the retina from damaging short-wave blue light by absorbing it. However, this causes the lens to change in color and transparency, which can contribute to the development of cataracts.
Blue Light and the Retina
The effects of blue light on the retina, however, are still being investigated, with some studies suggesting that blue light can directly cause cellular damage to the retina's photosensitive cells (i.e. rods and cones). Some studies have even suggested that blue light can accelerate the occurrence of age-related macular degeneration (AMD).
Digital Eye Strain
Although the jury is still out on whether or not blue light causes permanent damage to the retina and vision, the short-term effects of blue light are still very real. Known as digital eye strain, excessive and prolonged exposure to blue light can cause a wide range of symptoms such as discomfort, blurred vision, dry eyes, and headaches, all of which can disrupt your ability to focus and function properly at work. However, it's important to note that digital eye strain isn't caused by exposure to blue light on its own, but also by the length of time staring at various screens. This is often made worse by poor posture and lighting while looking at screens.
Protecting Your Eyes Against Digital Eye Strain
While research is still needed to investigate the long-term impact of screens on vision, most eye doctors agree that people should, at the very least, try to prevent digital eye strain as much as possible. For most of us, it's virtually impossible to avoid screens altogether, but it is still possible to adopt good digital habits to help our vision and overall well-being. Some good rules of thumb to keep in mind include the following:
Follow the 20-20-20 rule – whenever you are staring at a screen for a long period of time, every 20 minutes, look away from the screen for 20 seconds and try to look at something that is about 20 feet away.
Use proper lighting and avoid harsh overhead lighting to reduce glare on your screens.
Practice good posture when sitting in front of computer screens by positioning yourself about arm's length away from the screen.
Increase the text size on your devices to help your eyes see the words better.
If experiencing dry eye, use over-the-counter eye drops to help relieve the symptoms.
Whether you're experiencing digital eye strain or not, the most important thing you can do for your eye health is to schedule regular eye exams with an ophthalmologist. This is especially true if you have a retinal condition or are at risk of developing one. If you have concerns about your retinal health, contact Retina Consultants of San Diego today.