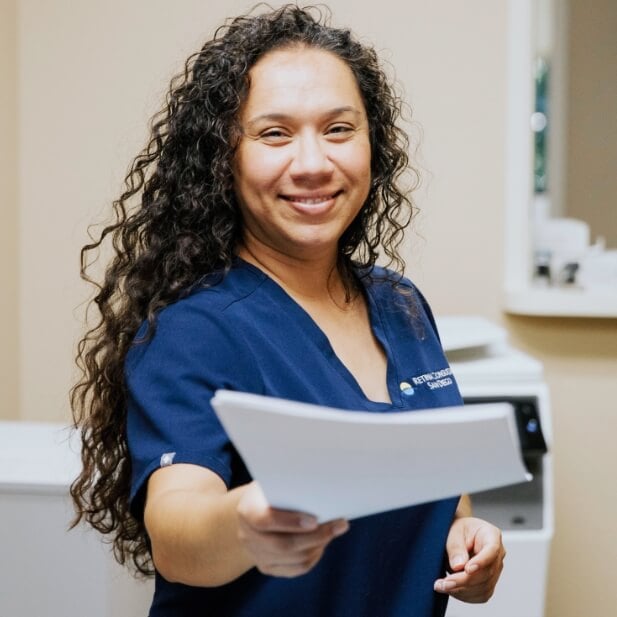 We welcome you to our office and hope to make your visit as pleasant as possible. Whether this is your first visit, or your hundredth we want you to understand what to expect during your visit, and we want to be prepared to provide the best treatment for your needs. Please be prepared to be dilated and to be with us for one to two hours for a thorough exam and testing. You may want a driver if you are uncomfortable driving while dilated. You may also want to fill out some of the patient intake forms prior to your visit to expedite things.
If you have any questions prior to your appointment, please call us at 858-451-1911.
What to expect during your first visit with us
Please arrive about 15 minutes early to fill out paperwork. Bring a copy of your ID and insurance information as well as a list of all medications, medical conditions, eye conditions and treatments. Please bring all eyedrops that you currently take, if any.
Once you are checked in, one of our ophthalmic technicians will escort you to a screening room where they will take a thorough history, test your vision and eye pressure, and dilate your eyes.
Your pupils will be dilated. Dilation makes your pupils open wide, so the doctor can get a clear view of the inside of your eye. Dilation will make your eye sensitive to light and typically lasts up to six hours. Many patients prefer to bring someone to drive them to and from appointments.
Once your eyes are sufficiently dilated you will have several imaging tests, including color photographs of the back of your eyes as well as optical coherence tomography (OCT) and other tests needed by the physician to determine the health of your retinas. Your doctor will perform a thorough examination of your eyes.
Depending on your eye condition you may require additional testing.
How long will the appointment take?
Patients who are visiting us for the first time can be in our office for a few hours as a series of diagnostic testing will be performed. Diagnostic tests will help the physician determine the diagnosis and proper treatment options.
If you are coming in for a follow-up appointment, your office visit can last 1-2 hours depending on testing needed and whether or not we have any emergency patients.
What to bring to your visit?
Photo ID and Insurance Card(s)
List of all health conditions and allergies
List of all your medications and supplements
List of questions and concerns about your eyes
Glasses/contacts and sunglasses
Please bring your glasses with you to your appointment and wear these when your vision is tested.
**Please let us know if you will need an interpreter during your visit.