Before getting started, read our Retina 101 page.
What is vitreous detachment?
The vitreous is the clear, gelatinous substance that fills the back of the eye, between the back of the lens and the retina. Vitreous looks like uncooked egg white and is composed of 99% water with collagen and hylauronic acid.
The vitreous has an outer "skin" of condensed collagen, similar to the skin or latex of a water balloon, which is adherent to the retina. As we age, the hyaluronic acid and collagen break down, and pockets of liquid develop within the vitreous. Eventually this liquid escapes to the outside of the vitreous, initiating separation of the vitreous from the retina.
When the vitreous fully separates it is called a posterior vitreous detachment (PVD). In the vast majority of patients, the adhesion between the vitreous and retina is light, and it separates easily. However in a minority of patients the vitreous separation is more forceful and may tear the retina.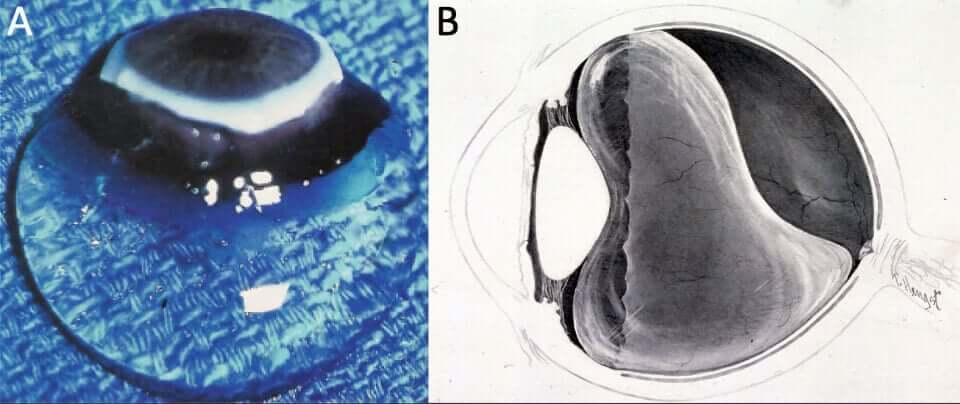 Symptoms of a vitreous detachment can vary greatly, but most patients notice floaters and some notice "veils" or "haze" in their vision. Uncommonly, patients can have prominent strands of floaters and haze that affects visual function.
As the vitreous is actively separating from or applying traction on the retina patients frequently experience quick flashes of light, often worse in low lighting and with head movement, and typically described as small crescents in the far edge of their visual field. Intense, spontaneous flashes of light, or those associated with significant new floaters or any loss of vision may represent a retinal tear and/or retinal detachment. Any patient with a new-onset symptomatic vitreous detachment should be evaluated by their eye doctor.
As the vitreous liquifies and separates, bundles of collagen and hyaluronic acid can develop, and the vitreous can become hazy. After a complete PVD, we can see a ring of collagen from around the rim of the optic nerve. This is called a Weiss ring.
Vitreous liquifaction and separation in and of itself is normal and benign, and does not require treatment. All patients with an acute PVD need a thorough retina exam as about 15% of patients develop retinal tears as the vitreous separates from the retina. While uncommon, treatment may be considered for patients with persistent, visually-significant floaters.
Laser vitreolysis uses laser to disrupt the larger opacities, making them smaller and less symptomatic. We do not perform this procedure due to safety concerns and limited efficacy. For severely-affected patients, we may consider vitrectomy, which will remove the floaters with a 10 minute, minimally-invasive surgery.
The vast majority of patients do very well with minimal to no symptoms after a few weeks to months. About 40% of patients who undergo laser vitreolysis have improvement in symptoms after the procedure. Vitrectomy is very effective in removing 95-100% of floaters, but does carry several important possible side effects that patients must be aware of before pursuing this.