Atul Jain, MD
Atul Jain, MD
| | |
| --- | --- |
| FELLOWSHIP | Jules Stein Eye Institute, UCLA |
| RESIDENCY | Stanford University |
| INTERNSHIP | Cedars-Sinai Medical Center |
| MD | UCLA |
| BS | UC Riverside |
| BOARD CERTIFIED | American Board of Ophthalmology, 2010 |
"Dr. Jain spends time building your trust, and providing you with every option available for care. He is an exceptional and professional healthcare provider and you will be glad that you have him on your healthcare team."

RCSD Patient Review
Dr. Atul Jain received his medical degree from UCLA, where he served as class president. He participated heavily in research throughout his years in medical school, including multiple projects at the National Institutes of Health and the MD Anderson Cancer Center. Dr. Jain completed his internship at Cedars-Sinai Medical Center and ophthalmology residency at Stanford University. While at Stanford, Dr. Jain helped design and patent preeminent retinal laser technology that forms the basis of short pulse duration treatment protocols. Dr. Jain then completed a two-year fellowship in vitreoretinal diseases and surgery at the Jules Stein Eye Institute at UCLA. During his time at UCLA he was inducted into the Society of HEED Fellows, a select group of top fellows nationally, and served as clinical instructor to residents and other fellows.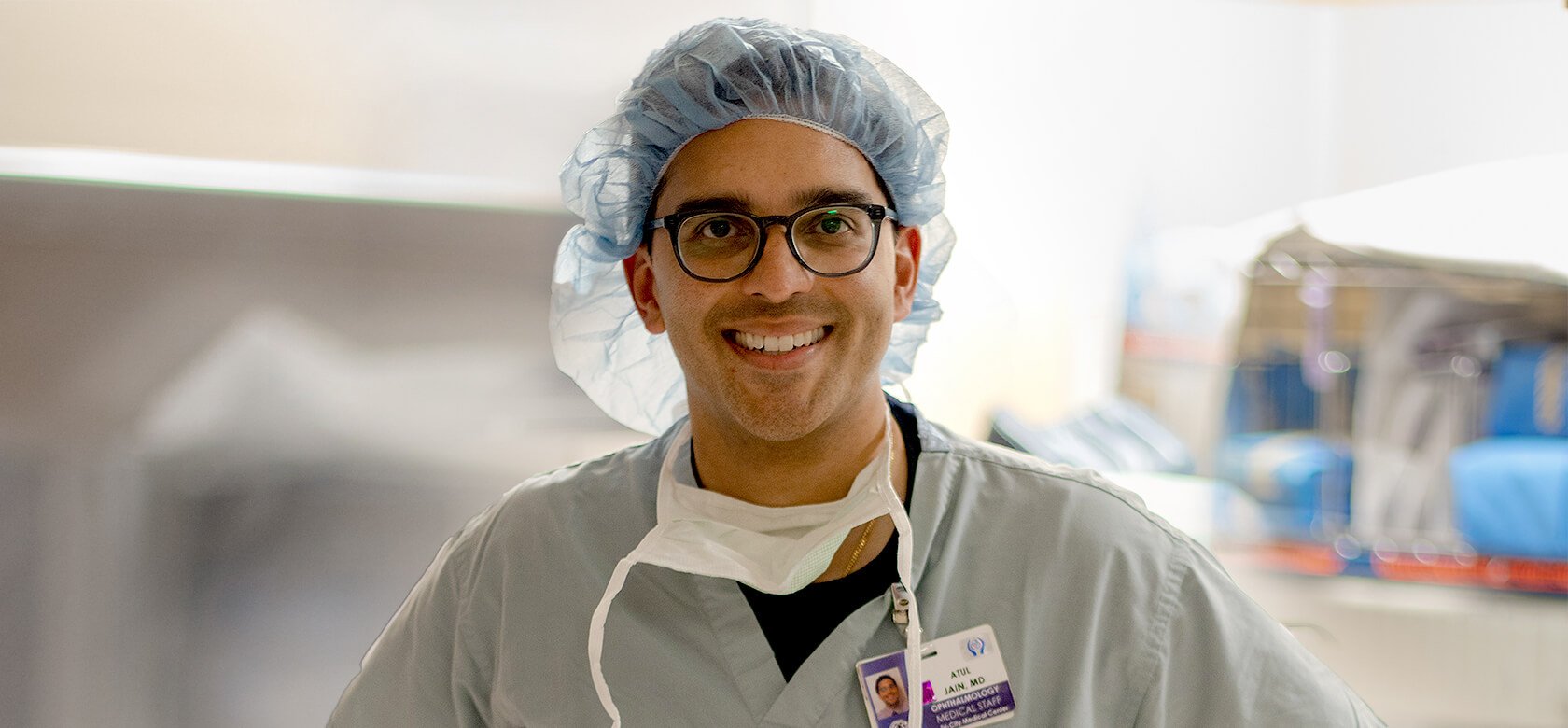 Over the past 15 years, Dr. Jain has published more than 50 peer-reviewed journal articles in leading publications, including the New England Journal of Medicine, Ophthalmology, and Retina, on which he now serves as a reviewer. Dr. Jain has been a principal investigator on multiple clinical trials and continues to do so because it allows him to bring his patients the treatments of tomorrow, today. His research interests include macular degeneration, diabetic retinopathy, diabetic macular edema, and advanced genetic screening for the prediction of macular degeneration. Dr. Jain has also presented his research on macular and retinal disorders at numerous national meetings and has been honored as a key opinion leader in the field of vitreoretinal disease.
Dr. Jain's approach to patient care is very straightforward: he does for patients what he would do for himself, should he be in their situation.
In his spare time, he enjoys spending time with his family (including his wife's goldendoodle, Fuzzy), golfing, writing fiction novels, and pretending he has a race car.
Local and National Leadership Positions.
The physicians at RCSD take an active role in leading and advancing our field.