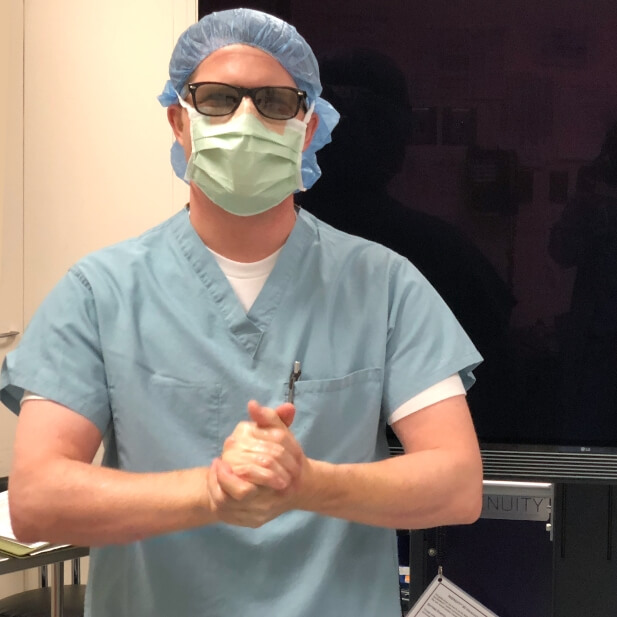 Thank you for trusting us with your upcoming surgery. The purpose of this section is to provide you with some information and to help you prepare for the procedure. If you have any further questions, please reach out to your surgeon and/or the surgery scheduler, who you can reach at 858-451-1911. The scheduler will be your point person, making all arrangements for the surgery. The basic sequence of events will be to 1) decide on proceeding with surgery; 2) arranging surgery with the scheduler; 3) obtaining pre-operative testing and having a physical with your primary physician, if needed; 4) obtaining post-operative drops and making arrangements for positioning, if needed; 5) not eating after midnight the day of surgery; and 6) arriving at the facility two hours prior to your surgery start time.
Overview
Please confirm with your surgeon which of these apply to your case. Also keep in mind that different surgeons have different techniques and these descriptions primarily apply to Dr. London. We are building a library of our surgical videos on the website and you may check to see if an example of your case has been posted for you to view, if interested. The description below refers to vitrectomy only, but your surgery may also involve membrane peeling, laser, gas bubble insertion, among other steps. Please ask your surgeon if you have any questions regarding these steps.
Vitrectomy refers to the removal of the vitreous gel from the back of the eye. This is done in many of the surgeries we perform, including macular hole repair, membrane peel, floater removal, repositioning or exchange of intraocular lenses, removal of retained lens material, removal of vitreous hemorrhage, and most cases of retinal detachment repair. For the procedure, you will be lying on your back in the operating room with sterile drapes covering your face. Your surgery will either be done under general anesthesia, where you are completely asleep for the case, or under monitored anesthesia care, where you will be awake, but comfortable and sedated. Your surgeon will discuss this with you, including the advantages and disadvantages of each.
For monitored anesthesia care, you will be put to sleep for a few minutes by the anesthesiologist, usually with propofol, while the surgeon numbs your eye. During the surgery you will have a lid speculum keeping your eye open, you will likely feel the surgeons' hands resting on your forehead, you will hear the OR staff talking, and likely music in the background. You will be able to talk and ask questions, but should only do so if necessary. Your forehead will be secured with tape to minimize head movement, but please try hard to not move your head, eyes, or the rest of your body. Try to relax and listen to the music.
During the vitrectomy, your surgeon will use very small (25-gauge) instruments to enter the back of the eye, through the sclera (white part of the eye). As the vitreous is removed it will be replaced with sterile saline. Typically, the vitreous is removed nearly in entirety – it is not necessary and will not regenerate. The saline will be replaced with aqueous humor over a few days. Following removal of the vitreous, attention will then be paid to the rest of the surgery, as needed. You should expect to be calm and comfortable during surgery, and if you are not, please speak up and inform the surgeon and anesthesiologist.
Once the surgery is over, the surgeon will remove the drapes and patch your eye closed. Please do not speak until the eye is fully patched.
Your surgery will take place in an operating room, at one of our excellent facilities. You should plan to arrive 2 hours prior to the scheduled surgery time in order to prepare for the procedure. Please do not eat or drink after midnight the night prior to surgery. Anesthesia requirements dictate that patients cannot have anything by mouth within 8 hours of the surgery, but we are often ahead of schedule, so please do not eat after midnight. Clear liquids (water, Gatorade, coffee without cream) are permitted up until 3 hours prior to surgery, but please anticipate us being ready for you early.
Your surgery will take anywhere from 30 minutes to several hours, depending on the case. These are average times for different types of surgeries, but these can vary.
Vitrectomy for retinal detachment: 45-60 minutes
Vitrectomy for vitreous opacities: 30 minutes
Vitrectomy for epiretinal membrane or macular hole: 30-45 minutes
Vitrectomy for retained lens material or vitreous hemorrhage: 30-60 minutes
Vitrectomy for diabetic retinal detachment: 60-180 minutes
Vitrectomy for intraocular lens fixation and/or exchange: 45-90 minutes
Scleral buckle for retinal detachment repair: 60 minutes
Following surgery, you will be taken to the post-operative care area in preparation of discharge about 30 minutes after the case. Plan on the entire experience to take 4-6 hours from the time of arrival until discharge.
Anesthesia will be used during surgery, administered by an anesthesiologist. The vast majority of vitrectomy surgeries are done under "monitored anesthesia care, (MAC)" which involves receiving intravenous propofol and other medications to keep you calm and sedated. With MAC you will likely be awake and aware during surgery. You will be asleep for a few minutes while I administer a numbing injection behind the eye. You will likely wake as we are placing sterile drapes over you. We will ask you to keep still and not speak during the case. You should have little to no pain, and pain medication can be supplemented as needed. General anesthesia is rarely used or needed as the recovery can take significantly longer.
Your eye will be patched closed at the end of surgery. Please leave this on until seen the following day. When the patch is removed, you may have poor vision, especially if a gas bubble was used. If the gas/air bubble is small, you will see a black circle at the bottom of your vision. The eye will likely have some bruising, both on the white part of the eye as well as beneath the eye similar to a black eye. While we try to minimize these as best we can, they are normal and will resolve over a few weeks. You may also have double vision from the numbing block. The double vision commonly lasts 48 hours, with rare cases lasting longer than this. You may want to patch the eye with a pirate-style patch until you are more comfortable.
Following surgery, please plan to have post-operative appointments the day after surgery, one week following surgery, and approximately 4 weeks following surgery. Your surgeon may want you to be seen more frequently. You may need a driver for these appointments if you have poor vision and are uncomfortable driving with just the other eye.
Many retina surgeries involve the use of a gas or air bubble. These are critical in vitrectomy cases involving retinal detachment and macular hole repair. There are 3 types of gas, including air, SF6, and C3F8. All resolve spontaneously. Air resolves on average in 3-5 days, SF6 in 2 weeks, and C3F8 in 2 months. Depending on your surgery, you may need to maintain a certain position following surgery, typically to keep the gas bubble in a certain place. This positioning is critical to the success of the surgery. For macular hole surgeries, you will need to stay off your back until the hole is closed. For retinal detachment repair, your surgeon will let you know the correct position to keep the bubble opposed against the retinal tear(s).
You will need to take postoperative drops for approximately two weeks. Please make sure we know your medication allergies so that we can prescribe the correct drops. Most of the time this includes two drops, an antibiotic and a steroid drop, each taken four times daily. We will provide a prescription for these to fill prior to your surgery. Your doctor may change or add additional drops depending on your specific case and will let you know at your post-op appointments. Please bring all drops to all post-op appointments to review and minimize confusion.
In addition to positioning, there are other postoperative restrictions. You should try to avoid blood thinners such as aspirin/ibuprofen, unless required for other medical conditions. Please try to stop blood thinners at least 10 days prior to surgery to minimize bleeding risk. You will have poor vision out of the eye, particularly if a gas bubble was used. You will need to avoid any tasks that require binocular vision, including minimizing driving if you are uncomfortable driving with one eye. You should also avoid makeup around the eye for about 1 week, avoid heavy lifting, and avoid strenuous activity until cleared by your surgeon. If a gas bubble was used, you must stay below 2000 ft elevation until the bubble has completely resolved.
Risks of Retina Surgery
Overall, retina surgery is minimally-invasive and very safe. However, there are risks that you should be aware of. Please see the informed consent form for a detailed list, but the most common and/or important risks of vitrectomy including the following:
Cataract progression: most patients who have not had cataract surgery will require cataract surgery within a few years following vitrectomy, particularly those over 50 years old
Double vision: Most patients have double vision for about 48 hours following vitrectomy. Less commonly, patients have prolonged double vision. Rarely patients require intervention for this such as prism glasses or surgical intervention.
Eyelid droop (ptosis): A lid speculum is used during surgery to keep the eye open. This applies stretch to the lids and can occasionally exacerbate or cause the upper lid to droop slightly during surgery. This is fairly uncommon, seen in 5% of cases or less, and depends on your age, number of prior eye surgeries, and the length of the procedure.
Infection: Fortunately, infection is very rare, seen in only 1/3000 to 1/5000 cases. We take every precaution to prevent this and treat it urgently and aggressively if it develops.
Bruising: Most patients have mild to moderate bruising on the surface of the eye and around the eye. This is from the numbing injection given during surgery as well as the instruments used to perform the surgery. Bruising typically resolves spontaneously in 2-3 weeks, similar to a bruise on the skin.
Contacting Your Doctor
We want to be there for you anytime you need us and are on call 24 hours a day, 365 days per year for emergencies. The best way to contact your doctor is through the office number (858-451-1911), which will help to document the call for after-hours calls.